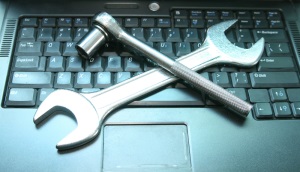 Last month I experienced an odd issue that I thought I should share.  I have an AMD Radeon HD7770 video card and recently updated the Catalyst Control Center software.  Shortly afterwards I started noticing that it would take a minute or two for my sound to switch between my headphones and speakers.  The issue was so annoying and problematic (issues with my VOip calls etc) I ultimately ended up reinstalling my OS.  I agree it was an extreme measure but I was at my wits end!
Much to my schagrin the reinstall did NOT fix the issue... Now I was perplexed.  I kept digging and eventually found that the CCC installation includes an HDMI audio driver that conflicts with the correct system driver.  Finally we're getting somewhere!  I went to:
Control panel > Programs and Features > AMD Catalyst Install Manager > Change > and selected the "Choose individual AMD software components to uninstall".  
Once this starts remove the offending CCC HDMI audio driver and voila!  It is an immediate fix!